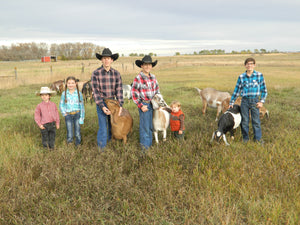 Welcome!
Simply Good!
Moisturizes like crazy!
Goat Milk Soaps & Products
Welcome to Lonely Goat Soap Co., a family run business based in South Dakota that creates handmade soap and other goat milk products right here at our family farm. Read our story to learn more about us. We offer a large variety of different scents that will leave your skin feeling clean and your body smelling amazing.
Lavender & Lemon, Rustic Woods & Rum, and Hickory & Suede are among our top selling goat milk soap bars!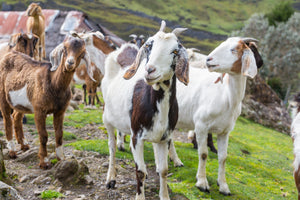 What is Goat Milk Soap?
Goat milk soap is just what it sounds like, soap made from goat milk! While soap can be made with many different liquids the use of milk as a soap base is a popular choice. For centuries, the benefits of milk to the skin have been so well known that people have even bathed in it. By making our own soap, we can forgo all the harsh chemicals and detergents and provide you with a natural bar of soap. While water-based soaps are a good option, the benefits of goat milk soap make it the perfect choice for producing a natural soap with great lather and scrubability... is that even a word? Well, it is now!
Unlike some milk based soaps that still use water, we use only goat milk. This gets even more of the milk fats and proteins in each bar. Shop for goat milk soaps!
Natural Shaving Cream & Other Products
We don't just offer our homemade soaps, we also offer other great stuff!
For men, we offer natural shaving cream, a variety of horse hair shaving brushes, shave balms, beard oils, and more beard & shaving stuff.
For women we offer natural shaving soap, scented body balms, homemade shaving brushes, straight razors, and more women's shaving stuff.
Using natural products reduces theharm done to your hair and skin from products that use harsh chemicals. Natural shaving creams, soaps, balms, and oils will allow your body to feel and look its absolute best, with the added bonus of smelling fantastic. Who doesn't love smelling fantastic?
SOAP OF THE MONTH
Peppermint
Just like peppermint candies, but not as sticky to shower with.
HELLO!  If you need a wake up in the morning, this is the next best thing to an alarm clock! I mean, I wouldn't stop setting your alarm, but this soap is sure to wake you up and get you cleaner than your clock ever could!  It's just a little sweet and very minty.
5-6oz bar
What's in this stuff? Saponified oils (olive, coconut, palm, and castor oils), fresh goat milk, fragrance oils, natural pigments.
Why Is Goat Milk So Good?
Goat milk is loaded with essential nutrients that are good for healthy skin.  Goat milk contains natural fats that not only create a natural moisturizer by increasing superfat levels in the soap, it creates a creamy lather.  The naturally occurring fats are nourishing to the skin by increasing the moisture levels that naturally hydrate your skin.  Using a goat milk soap bar is one of the simplest ways to include this nutritious milk into your daily regimen. Goat's milk is great for skin health because it has multiple advantages.
Learn more about goat milk soap.